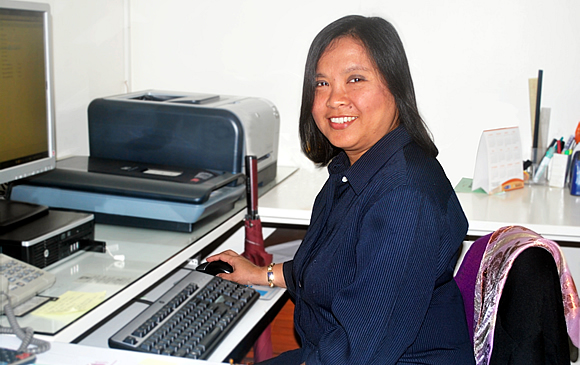 LOS BAÑOS, Philippines – Dr. Maria Cristeta N. Cuaresma takes over the reins of SEARCA's Graduate Scholarship Program effective 15 January 2014, replacing Dr. Editha C. Cedicol, who retired after almost 28 years of service at SEARCA, as the department's Program Head. As head, Dr. Cuaresma will lead all initiatives and projects under the Center's Graduate Scholarship Program, including its Institutional Development Assistance (IDA) Program, the Southeast Asian University Consortium for Graduate Education in Agriculture and Natural Resources (UC), Food Security Center project with the University of Hohenheim, Germany, European Union (EU)-funded Exchange by Promoting Quality Education, Research, and Training in South and Southeast Asia (ExPERTS) Consortium, and the Southeast Asian Uplands Fellowship Project funded by the International Development Research Centre (IDRC) of Canada.
Dr. Cuaresma is no stranger to SEARCA as she has been a Consultant for Graduate Scholarship since August 2013. She also served as the Consortium Coordinator of the University of the Philippines Los Baños (UPLB) for six years, from 2005 to 2012, in her capacity as the Graduate School College Secretary (2005-2011) and as the Vice Chancellor for Administration (2011-2012). Aside from these posts, she is also an Assistant Professor at the Institute of Mathematical Sciences and Physics, College of Arts and Sciences, UPLB.
Dr. Cuaresma took her BS, MS and PhD in Mathematics at the University of the Philippines Diliman, but did her PhD dissertation at the University of Western Australia in 2003 under a sandwich program grant.
SEARCA's Graduate Scholarship Program, initiated in Academic Year 1968/69 is one of the Center's core programs to realize its mandate of developing highly trained human resources in agriculture and related sciences to accelerate agricultural and rural development in Southeast Asia. The Program has been providing graduate scholarships to qualified nationals of the 11 member countries of SEAMEO, and has likewise been administering scholarship funds of other partner institutions. Over four decades, the scope of the Graduate Study Program has expanded to include institutional development, networking, and other services to enhance graduate education in the region.