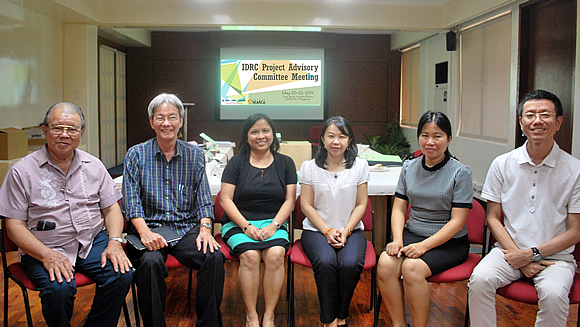 LOS BAÑOS, Philippines – SEARCA opens its doors to the advisory committee members of the Southeast Asian Upland Agriculture Fellowships, for a two-day meeting on 22-23 May 2014. This graduate scholarship project is a three-year initiative funded by the International Development and Research Centre (IDRC) of Canada, that aims to provide opportunities to qualified candidates from Cambodia, Lao PDR, and Vietnam to pursue science-based master's degrees in fields related to agriculture and food security in the uplands.
The six-member advisory body includes Dr. Vo Tong-Xuan, Rector of Tan Tao University, Vietnam; Dr. Mom Seng, Vice Rector for International Affairs, Royal University of Agriculture, Cambodia; Dr. Oscar B. Zamora, Vice Chancellor for Instruction, University of the Philippines Los Baños, Philippines (UPLB); Dr. Prasit Wangpakapattanawong, Assistant. Professor, Forest Restoration Research Unit, Faculty of Science, Chiang Mai University, Thailand; Dr. Silinthone Sacklokham, Vice Dean, Faculty of Agriculture, National University of Laos, Lao PDR; and Dr. Gil C. Saguiguit, Jr., SEARCA Director, who will be represented by Dr. Maria Cristeta N. Cuaresma, Program Head of SEARCA's Graduate Scholarship and Project Leader for the fellowships project.
During the Meeting, the project's accomplishments for the previous year will be presented and the important events lined up for the current year will be discussed, including the Second Scholars Conference cum Fellowship Meeting slated in December 2014. The advisory committee will also evaluate the applicants from Myanmar and Lao PDR for the additional cohort granted by IDRC at the start of 2014.
Study posts of the scholars in this project are UP Los Baños in the Philippines, Chiang Mai University, Kasetsart University, and Khon Kaen University in Thailand. With the approval of the second cohort, the scholarship has been extended to Myanmar nationals as well. Running from March 2012 to February 2017, the project offers a total of 53 Master's degree scholarships. Details about the project can be found at www.idrc.searca.org.